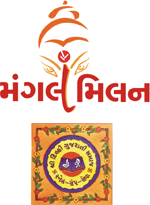 Marriages, they say, are made in heaven and celebrated on earth. "Globalization, higher education and changing lifestyle has brought changes in attitude also. Gujarati families are now open to idea of youngsters choosing life partner of their choice. However youth in their single minded pursuit of career finds it difficult to locate partner of their choice.
"Mangal Milan" is a modern version of traditional "Swayamvar" where eligible boys and girls are brought together to choose partner of their choice. Shri Delhi Gujarati Samaj has launched a matrimonial website www.GujaratiMangalMilan.com to provide an online platform to find suitable match. This is a novel project of Shree Delhi Gujarati Samaj to offer a unique opportunity to youngsters to choose partner of their choice. Mangal Milan is a happy blend of modernity and traditions, as youngsters select partner of their choice and get married with parents blessing.
We invite you all to login www.GujaratiMangalMilan.com to participate in this unique online portal. We also request you to inform your friends and relatives about this website.
Shri Delhi Gujarati Samaj wishes that you all will use this website to find suitable match for yourself - your near ones - dear ones.
We expect that you all will give information about this website to your friends and relatives so that more and more people get benefited by this website.
Please contact Shri Delhi Gujarati Samaj office for any further information you need on this